Harvest Festival of Chile, in Curicó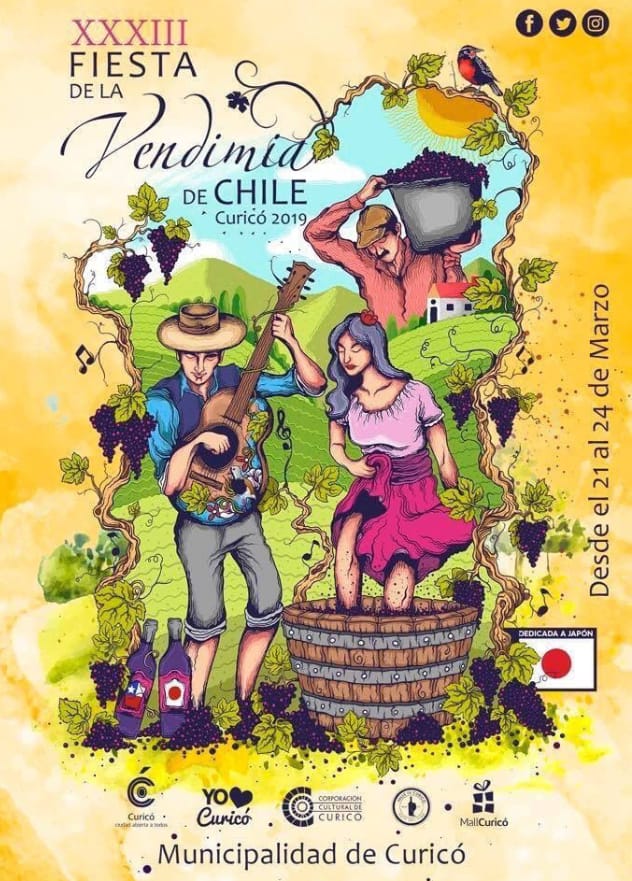 This year the Harvest Festival of Chile will be held in Curicó on 21, 22, 23 and 24 March 2019, in its thirty-third version, this true wine festival has as its main objective to promote and strengthen the cultural heritage of the commune of Curicó.
12 vineyards belonging to the Wine Route of the Curicó Valley will present their wine selections, you can also find typical crafts, local enterprises, local gastronomy and a great folkloric artistic show, adding a great experience around wine.
The party this year will be dedicated to Japan.
Viñedos Puertas will have a large selection of red wines, sparkling wines, rosé and white wines at its corporate stand, all from the vineyards of the 9 subvalles within the Comarca de Curicó.
Wine lines such as:
Parnaso, Matapenquero, Caballo Azul, Cava de Familia, Culenar, AguanegraEl Milagro, Corona de Aragón, Tronador, Lujuria, Picardía and Para mí.

Hours of service Stand.
Thursday 21 / 12.00 to 00.00 hrs
Friday 22 / 11.00 to 01.30 hrs
Saturday 23 / 11.00 to 01.30 hrs
Sunday 24 / 11.00 a 20.00 hrs

Wine pool
As every year Viñedos Puertas will have its wine cellar ready for the community following the tradition of all the years and bringing the culture of wine to the community.The pool will have a Carmenére Varietal Plus 2018 wine, Palquibudis origin, Curicó Valley.
Value tickets tasting $ 1,000
Cup value $ 3,000
We wait for you, visit us, Stand nº 9